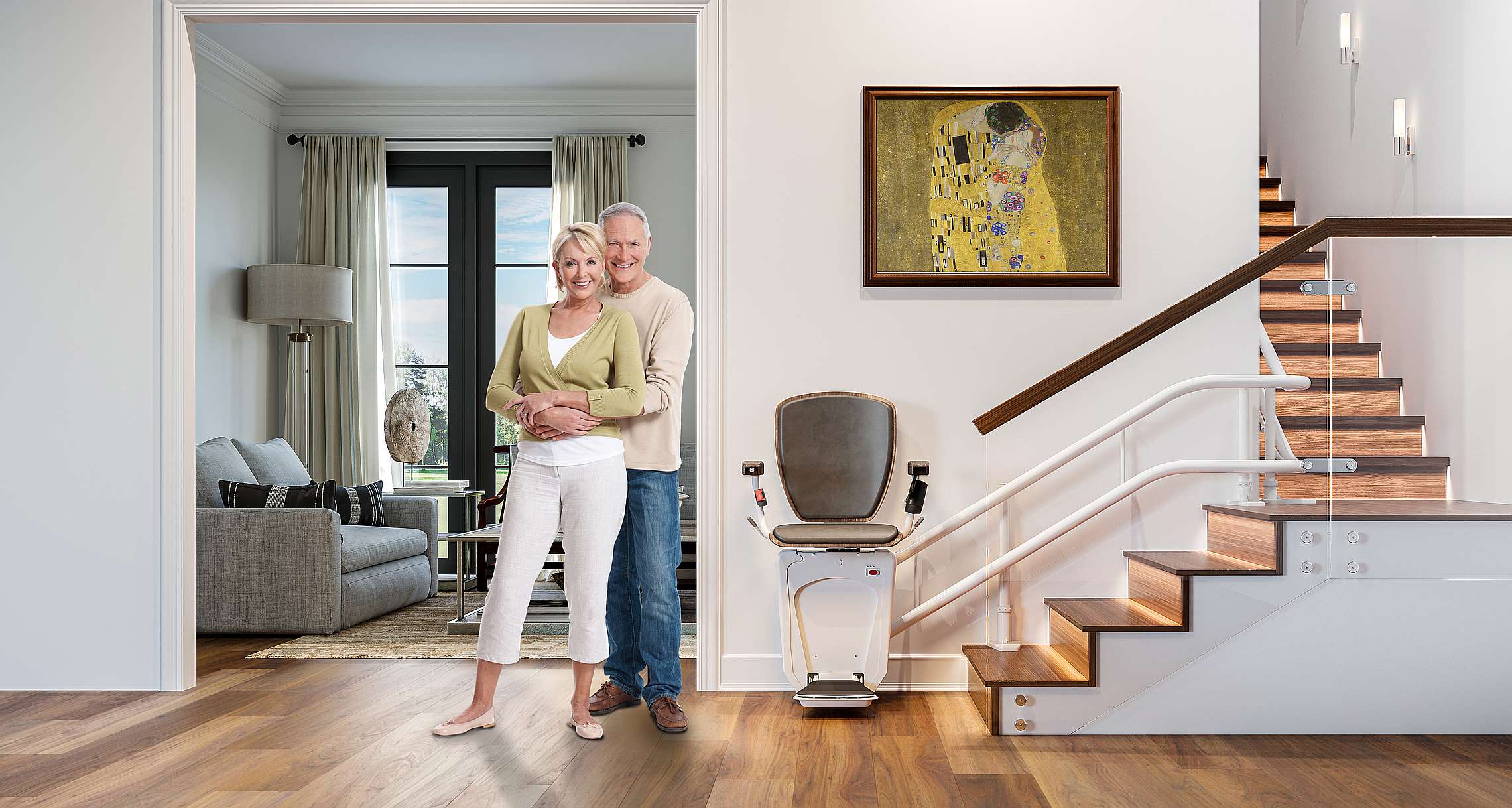 Technology to make
your life easier
An independent life for everyone
We believe in enabling independent lifestyles with the assistance of great technology. For over 30 years, we have dedicated our focus to the development of the highest quality accessibility solutions.
As a family-run company, it is our vision to constantly innovate our products and services for the benefit of our clients and continue to provide safe and reliable lifts, for a fair price.
We are proud that every day, around the world, our lifts overcome architectural barriers to improve the lives of mobility-challenged people.
Our complete range of lifting solutions
Going outdoors? Here is your solution!
Inclined hill side lift
After years of thorough testing, the Alpha lift is now available for outdoor applications!
The rails are protected with a robust zinc coating while the plastic parts have a special UV protection. The lift comes with a protective cover for the chair and the upholstery is waterproof and easy to clean. This makes this lift a reliable and enduring enhancement to your home.
The stairlift will help you manage your outdoor steps easily, providing freedom and independent access to the great outdoors.
More on the Alpha stairlift
You can count on us
78

Countries
served

32

Years of
experience

42.000

Lifts
installed

353

Sales
partner

95

Export
in %
Our lifts all around the world
Israel

A Delta ensures accessibility at the Supreme Court in Jerusalem

Switzerland

The Delphin pool lift with blue seat ensures barrier-free access to Lake Zug

Austria

An Omega and a Delta stairlift ensure accessibility in a building at the Schottentor in Vienna

Ukraine

Stratos at the military hospital in Lviv installed by our partner Unicar

Czech Republic

Liftboy 4 S in RAL special color at the main train station in Prague

Finland

With this delta, installed by our partner Cibes Hissit, little Neela was able to enjoy a barrier-free everyday life.

Germany

Stratos in special RAL colour 7016 in the "Fünf Höfe CityQuartier" shopping centre in Munich installed by our partner ProVita Treppenlifte

Argentinia

A Delta realised by our partner Access Systems in Puerto Madero, a lovely area near the prot of Buenos Aires

Israel

Liftboy 2 in the music centre in Eilat, the most southern city of Israel, installed by our dealer Sadan

Finland

The Omega of our partner Cibes Amslift Oy ensures accessibility between sauna and beach at Youth Centre Marttinen in Virrat

Lithuania

Stratos in front of the office of the Lithuanian president in Vilnius realised by our partner Eurogama

United Kingdom

Omega platform installed by Stannah Lifts in Castle Howard in North Yorkshire. An wonderful installation on a beautiful staircase in the stately home of the Howard family.

Ireland

Stainless steel platform installed on the iconic bridge at the Google Headquater in Dublin. Excellent job done by Accel Lifts.

Greece

Delta outdoor unity at the Agricultrual University of Athens realised by Bibikas Special

Monaco

Special OMEGA platform made from stainless steel grade 316, sailing the seas on a luxury 50m yacht

United Kingdom

OMEGA platform installed outdoors at the Lincoln College, University of Oxford Turl Street, Oxford, England

Czech Republic

Elegant installation at the Opera house in Prague. The rail colour has been selected to perfectly match the existing carpet and the pillars have been designed to fit the style of the general interior. An eye catcher!

France

Liftboy 2 at the Domaine des Fauves zoo shop in Abrets en Dauphiné. Installed by Altica - Ascenseurs et Automatismes

United Kingdom

Alpin at the National Army Museum in Chelsea, London, installed by Access Lifts
Check out our 3D configurators
Making life easier - configure your own lifts and layout drawings with our online configurator.
Why Lehner Lifttechnik?
Experience

Valuable know-how to find the optimum solution, customized for any given task

TÜV certified

Our products are manufactured in accordance with the latest EU standards and certified by the renowned TÜV institute

Innovative

We strive to consistently improve our products to increase customer satisfaction and product safety

Personal

We value our customer relationships through a dedicated personal approach and unconventional problem solving

Individual solutions

Each product is custom made to fit the needs and budget of the customer

Worldwide

We serve customers worldwide through a broad network of dedicated and professional dealer companies